It's the topic of one of our first conversations on the first of each month… What's the Bouquet of the Month?!   Justin orders the flowers each week, Zoe takes a gorgeous photo of them, we put it on the web site and expect your calls.   "What's the Bouquet of the Month?", you ask… because you know it's going to be a fresh, season, simple and beautiful bouquet at a great price.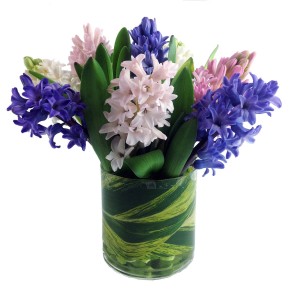 April is fresh cut Hyacinth's moment in the spotlight.  Five-eight beautiful blooms bursting from a glass cylinder
with accent greens and a contemporary leaf wrap for only $40.  We love it.  Although the colors are assorted and they all smell so fresh, pretty and like Spring… it's fun to think of the colors and their meanings.
Blue – Peace and Serenity
Orange – Satisfaction and Passion
Pink – Sensitivity and Love
Purple – Elegance and Pride
Red – Courage, Desire and Love
White – Purity and Innocence
Yellow – Happiness and Friendship
-source flowersvs.com