Administrative Professionals' Week begins Monday, April 25th.  We know the importance of a solid team at Ashland Addison.  From our delicate flower processing team across the room to our designers, from our weather-fearless delivery team to those working the computers back at the shop to set up their routes and keep flowers moving in a timely fashion… each member of our team plays a integral role to bring to life each sentiment from our customers.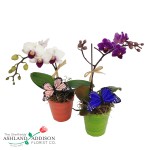 A simple "Thank You" can go a long way to motivate employees and build loyalty. Administrative Professionals Week (APW) offers an ideal opportunity to show appreciation – and formally reinforce the value of an employee's contributions.  Our partners at the Society of American Florists put together a simple guide to help smart managers put the benefits of proper office etiquette to work during APW and year-round.
Use APW to find out what motivates your staff. Conduct a formal or informal survey asking support staffers what kinds of incentives they value most. This will show your commitment and give you hints on what forms of appreciation they would enjoy during APW.
Be open and direct. If you're not sure whether the members of your support staff want to be recognized during APW, just ask them.
Include everyone on your team. Make APW a time to thank all of your support staff – from secretaries to assistants to junior managers – for their contributions.
Make "thank yous" personal. Whether you're buying a gift or making lunch reservations, think about the individual. For example, if you're ordering flowers, ask your florist to create an arrangement that fits the recipient's personality. Is that person traditional? Outdoorsy? Dramatic?
Be specific. Tell the members of your support staff exactly what they did that you appreciate.
Treat APW like a New Year's resolution. Resolve to practice better office etiquette year-round to build your team's confidence and cohesion. Whether it's celebrated with a gift, flowers, or a group luncheon, APW is an opportunity to formally acknowledge the members of your support staff for their contributions throughout the year and wipe the slate clean of any forgotten thank yous.
With thanks to the Society of American Florists!