Let's Talk Color Scheme...
Selections include Soft & Romantic, Dark & Moody, and Crisp White & Green.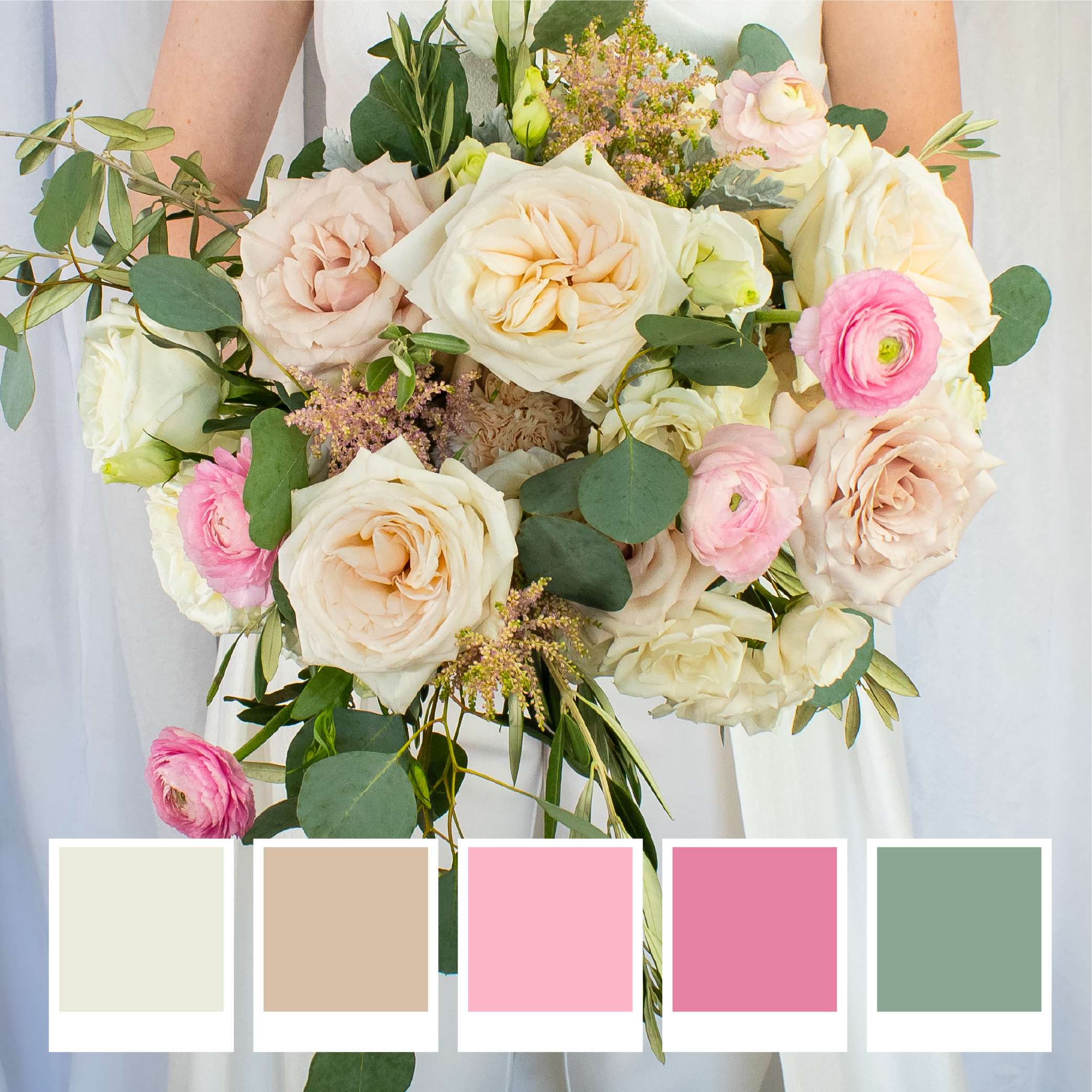 Soft & Romantic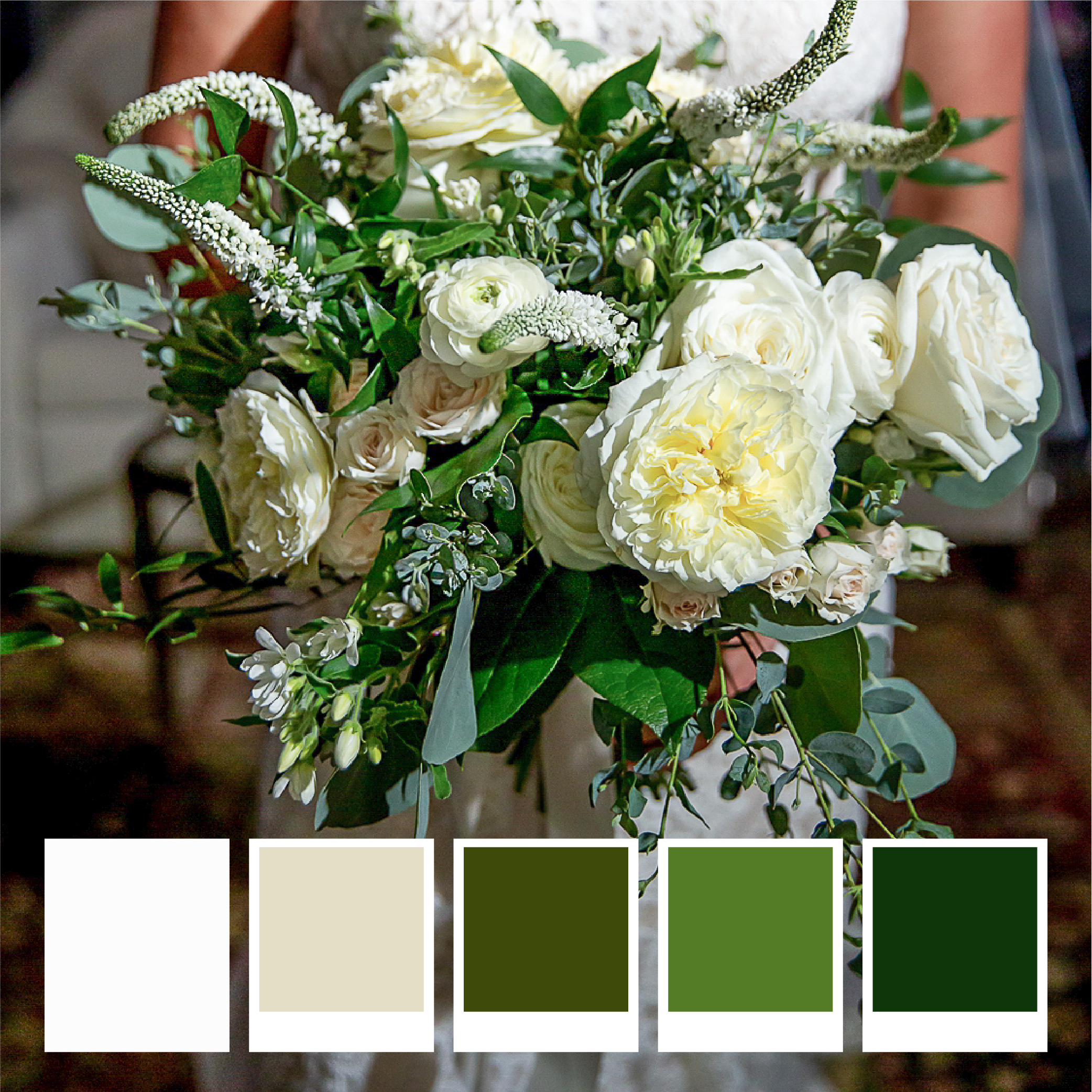 Crisp White & Green
Photo by Victoria Sprung Photography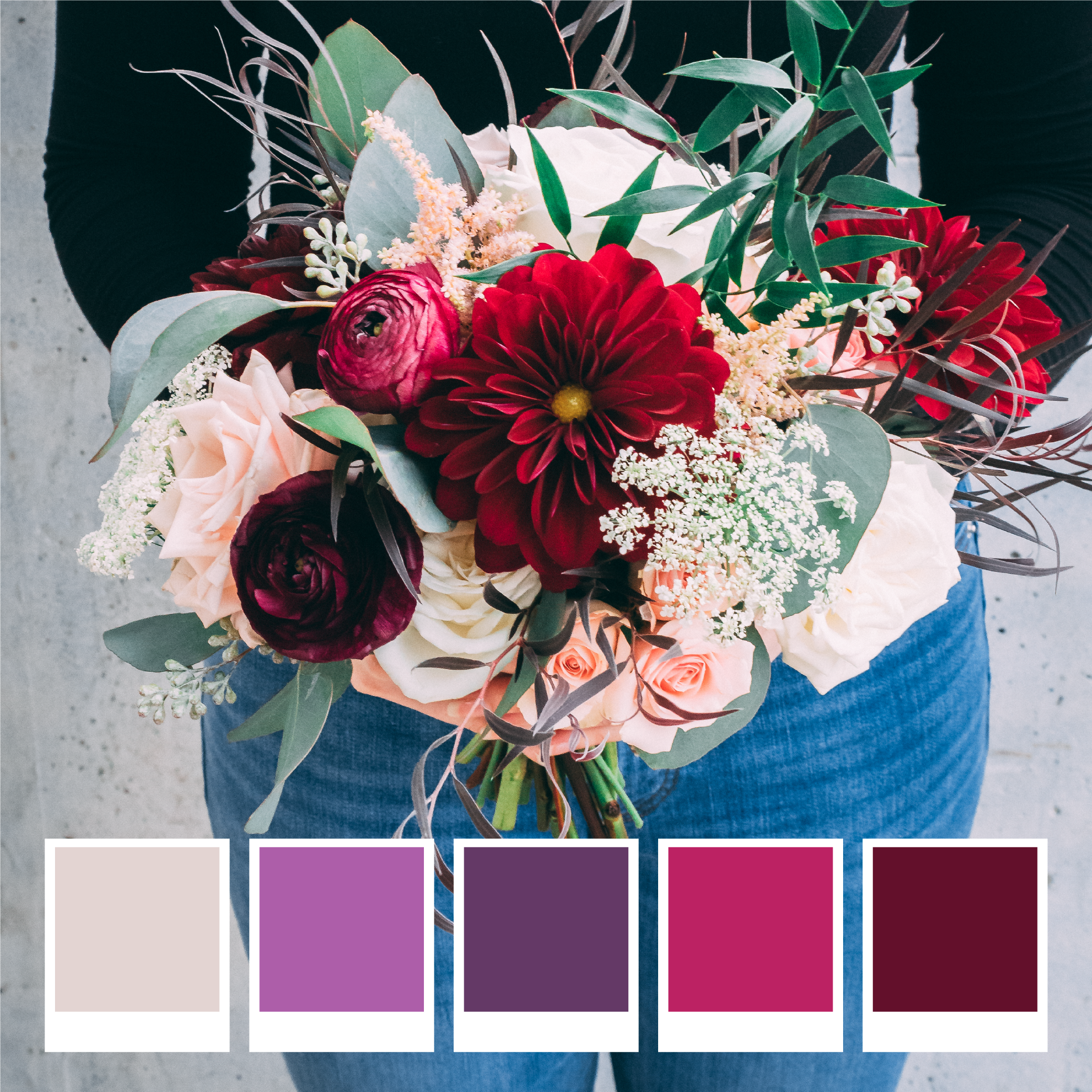 Dark & Moody
The Details
Selections include Soft & Romantic, Dark & Moody, and Crisp White & Green. Each color palette will be dynamic and include the best available seasonal, premium blooms, chosen by our designers.

Depending on the time of year, premium blooms may include: peonies, dahlias, garden roses, anemones, ranunculus, and the like. Please note that peonies are only available May-July, and dahlias are only available August-October.

Foliage choices will also be seasonal and will complement the tones and needs of the color scheme and design.
Product Information:
The ceremony structure is built as a floor standing arch 6 feet wide, and 8 feet tall with flowers and greenery focused mainly across the top and one corner. The arch is a rental item.

A two-person Ashland Addison team will deliver and design your collection in your color palette within a two-hour window on your event date, and return the next day at a predetermined time to pick up the arch rental.

Collection Includes:
1 Focal Bouquet
1 Focal Boutonniere
1 Floor Standing Ceremony Arch

Setup and Delivery 2 ppl for 2 hours, next day pickup included (same day pick up for additional $75 - call to order)


**If your event is within 14-days, please call our studio for availability. At this time, we are unable to accommodate personal customizations; however, we welcome any style notes and/or pictures of your favorite arrangements and bouquets. We will do our best to incorporate your style notes and images, but cannot guarantee any specific blooms or styles based on those requests.
---
Frequently Asked Questions:
Updated Covid-19 policy:
(as of 11/2020)
We are honoring our couples wishes to postpone their wedding to a later date without any additional charges. In this case, we are holding the retainer to apply to the booking of a new date (subject to availability).
For these difficult circumstances, should the wedding be cancelled in its entirety, we are also offering to apply the retainer on file as a credit to a single event in the future - like a holiday dinner, wedding shower, birthday, etc.
How do I know if a Minimony, Microwedding, or Full Service Wedding is the best option for me?
In light of the uncertain times, and as non-traditional weddings are gaining popularity, many couples have chosen to hold a Microwedding, Minimony, or Elopement to celebrate their union. Check out our blog post HERE to learn more about each of these options and which may be the best option for you!

Does your upcoming wedding or celebration require more personalized considerations with day-of styling and coordination? Read on for more details on our full-service decor!Need same day delivery after 2pm? Give us a call and we will help however we can! 312.432.1800
What is your "A La Carte Wedding Catalog"?
We have always offered A La Carte floral options as a supplement to our Full-Service Decor, but our new A La Carte line caters specifically to your Microwedding and/or Minimony! These new collections are specially curated for intimate celebrations with current styles and trends in mind while prioritizing easy ordering, contactless delivery, and new customizable options – all available on our retail website!

Some of the benefits that the expanded A La Carte Catalog offers our clients are:
Instant purchase of floral items through the webshop
Curated pieces especially designed with Minimonys & Microweddings in mind
Trend-forward designs in our most popular color palettes
Contactless delivery or pickup

See our blog post HERE for more information on how to order your wedding flowers through our A La Carte Wedding Catalog!