Dia de los Muertos
Dia de los Muertos (or Day of the Dead) is a Mexican holiday celebrated October 31 - November 2. Learn More Below!
---
"Skulls to the Living, Bread to the Dead"
---
OFRENDA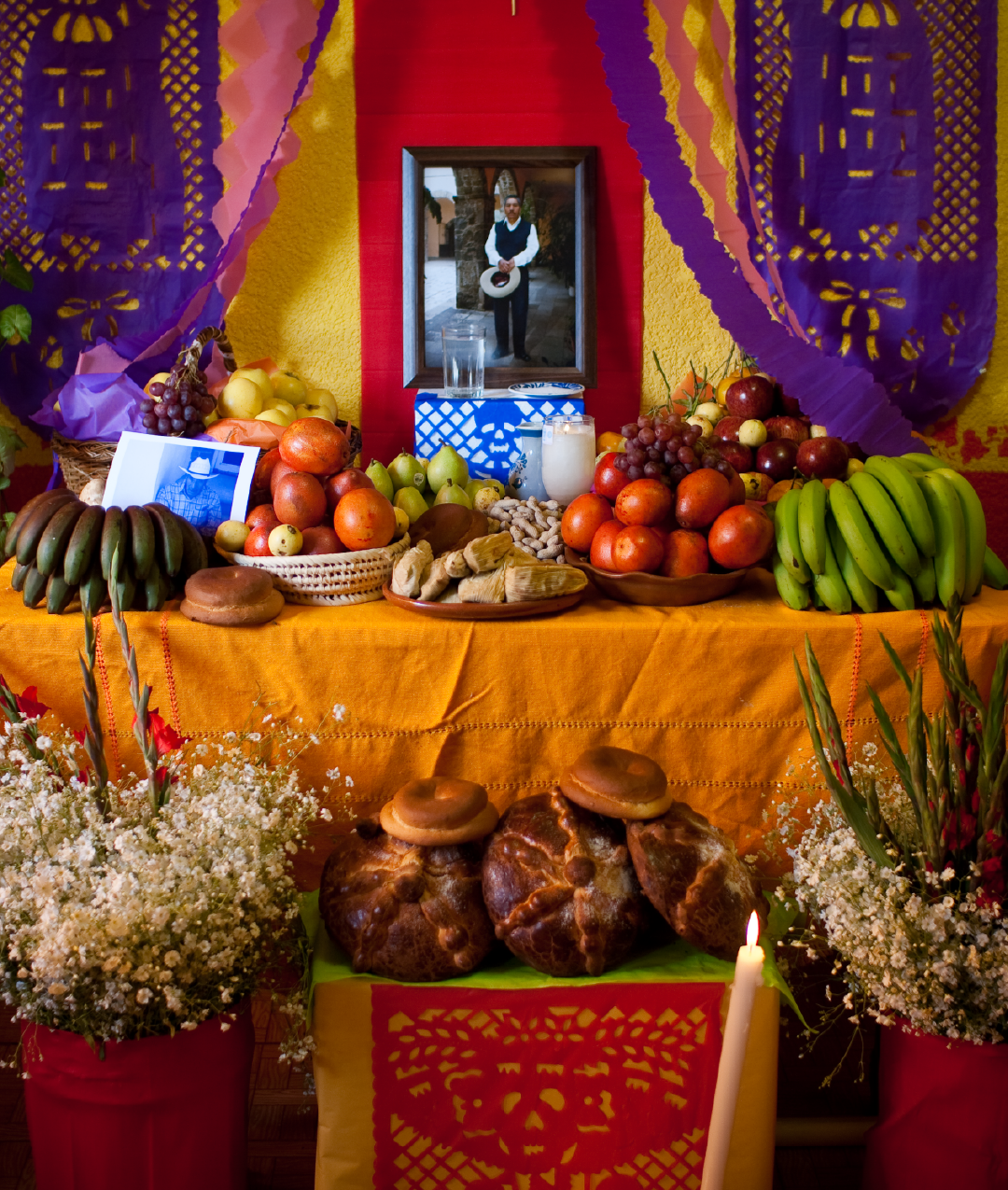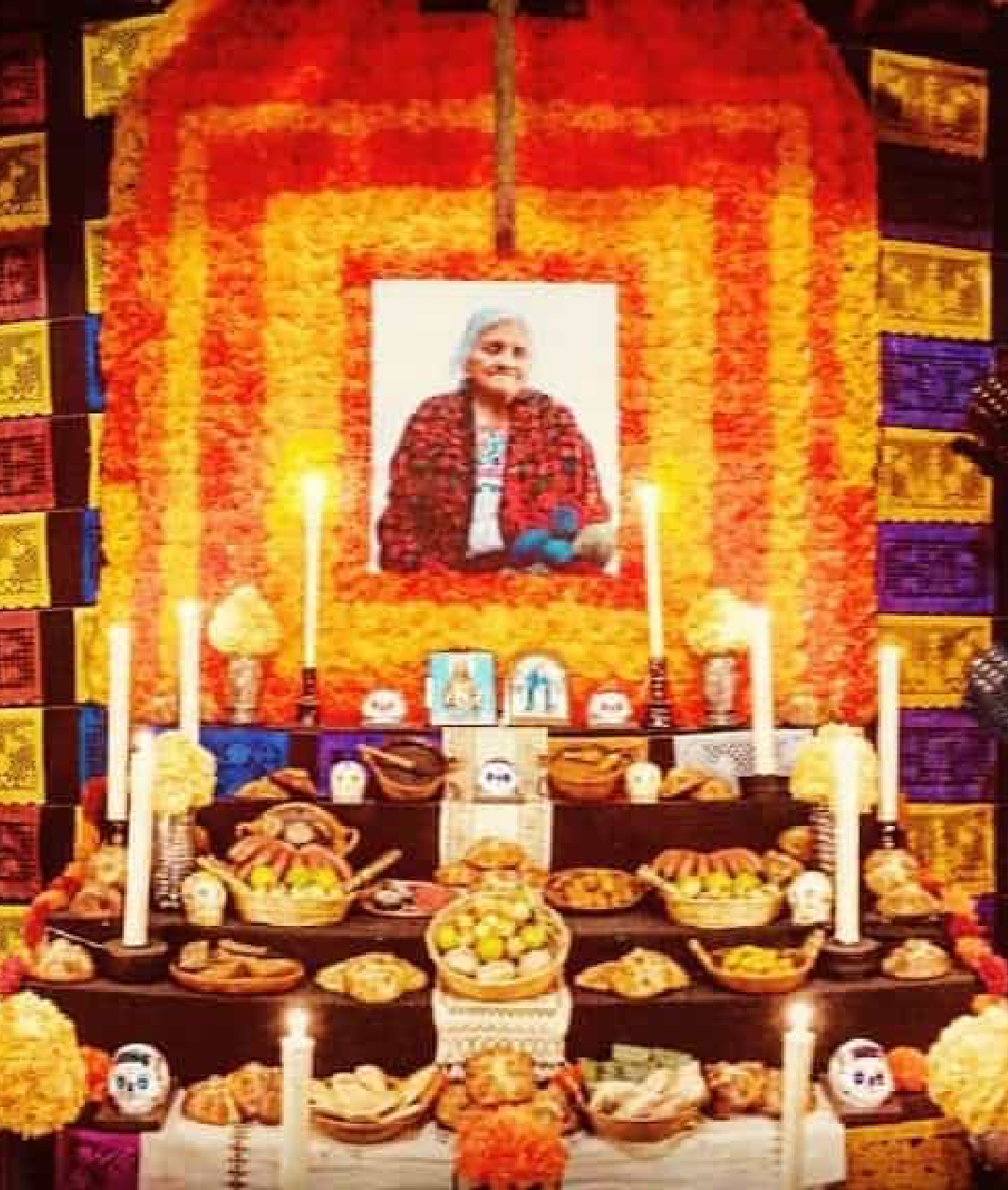 Mexicans celebrate the Day of the Dead both in the family home and at the cemetery. They invite their departed relatives to join them around the family table by building altars, called ofrendas, with a photograph of the deceased as the centerpiece.

The offerings represent the four elements: earth, water, fire and air. Candles are lit to symbolize fire while intricately-cut paper decorations represent air and the wind. The family pours water into a glass and places a little salt next to it, so that the soul can quench its thirst and purify itself after its long journey from beyond.
Mexicanos celebran el día de los muertos en la casa y en el cementerio. Invitan a los difuntos a la mesa con fotos incluidas en los altares construidos que se llaman ofrendas. Los ofrecimientos representan los cuatro elementos: tierra, agua, fuego y aire. Las velas están encendidas para simbolizar fuego. Decoraciones de papel están cortadas para representar aire y el viento. Las familias sirven agua con sal a su lado para que las almas pueden saciar su sed y para purificarse después de su viaje desde más allá.
MEAL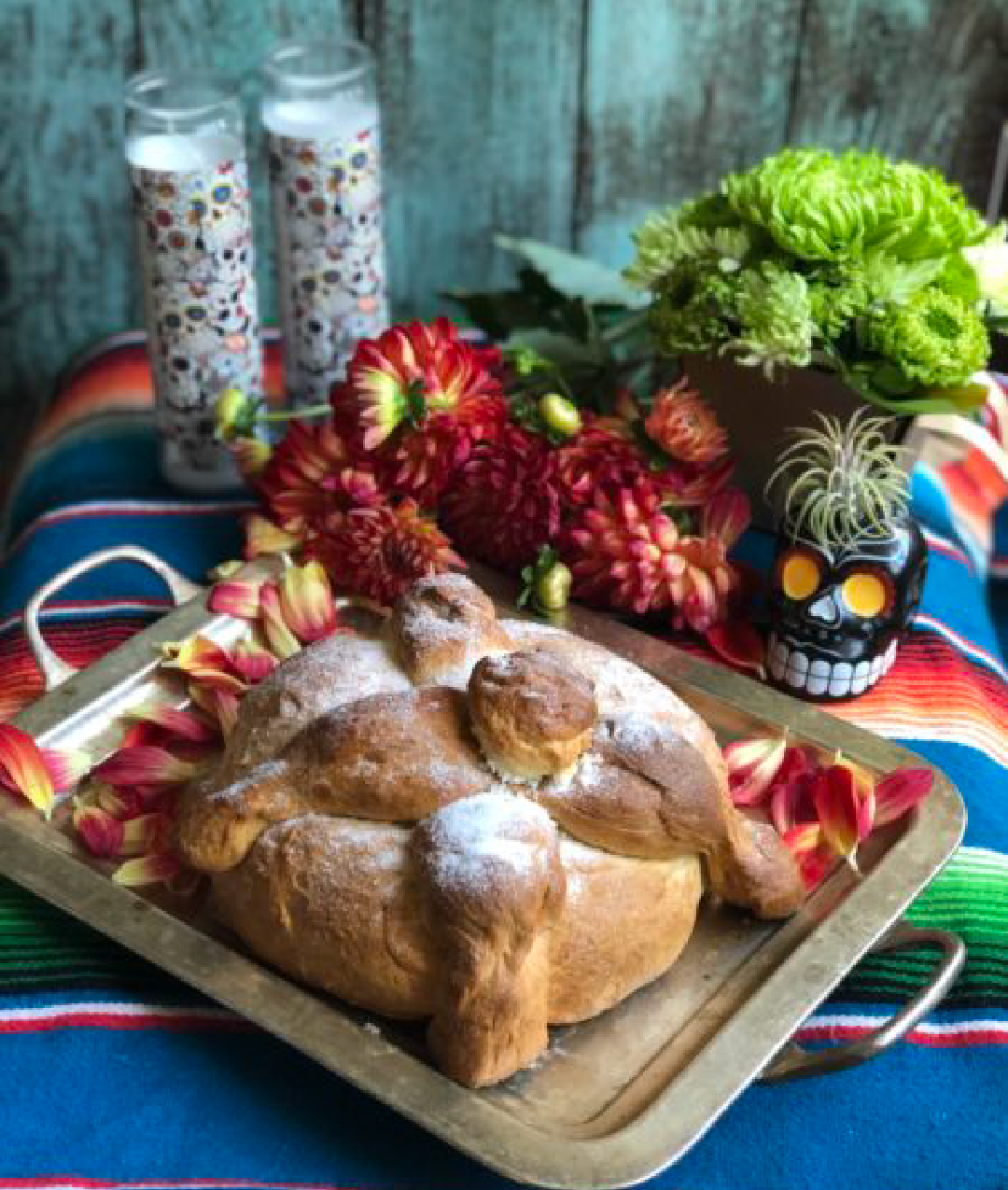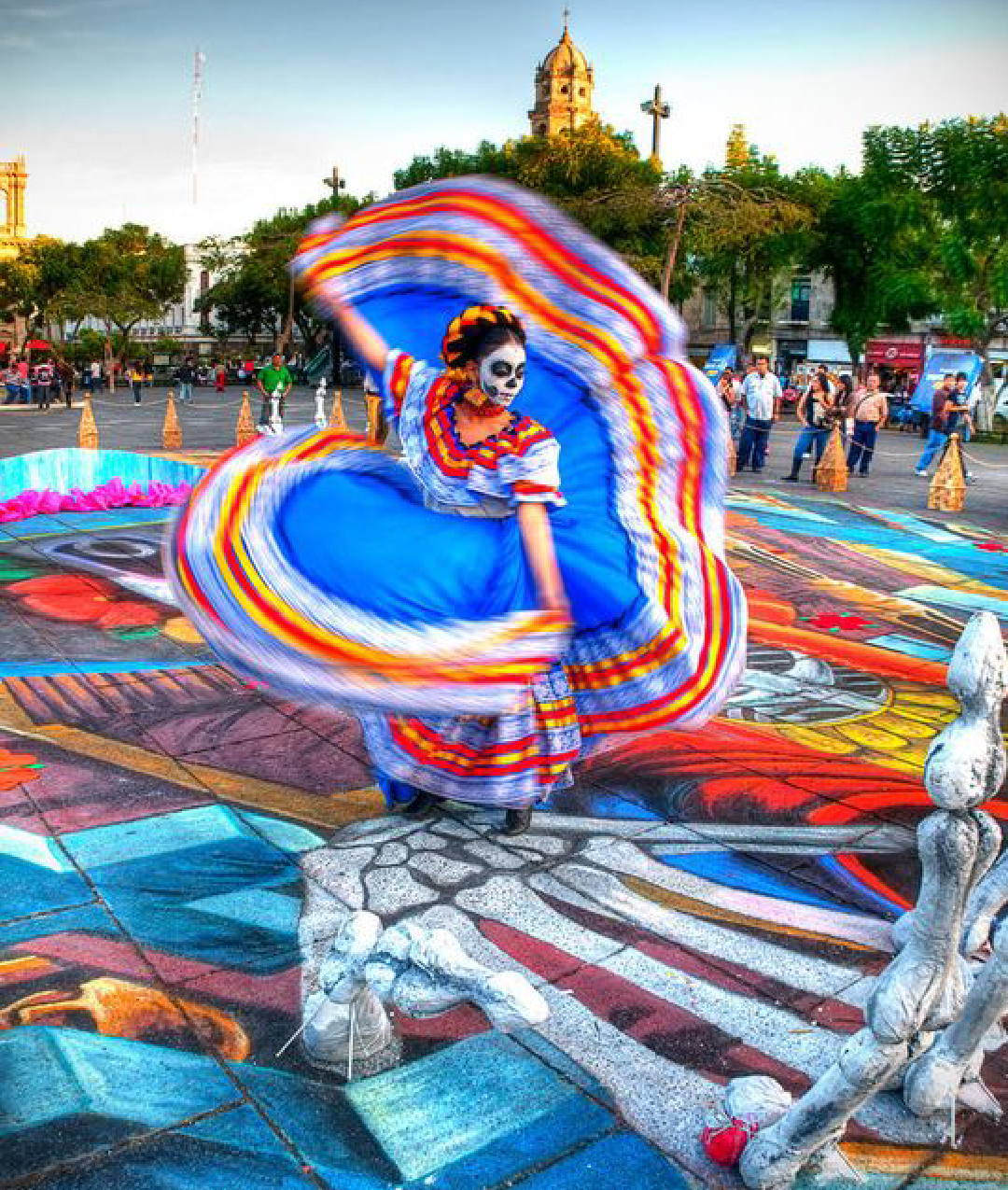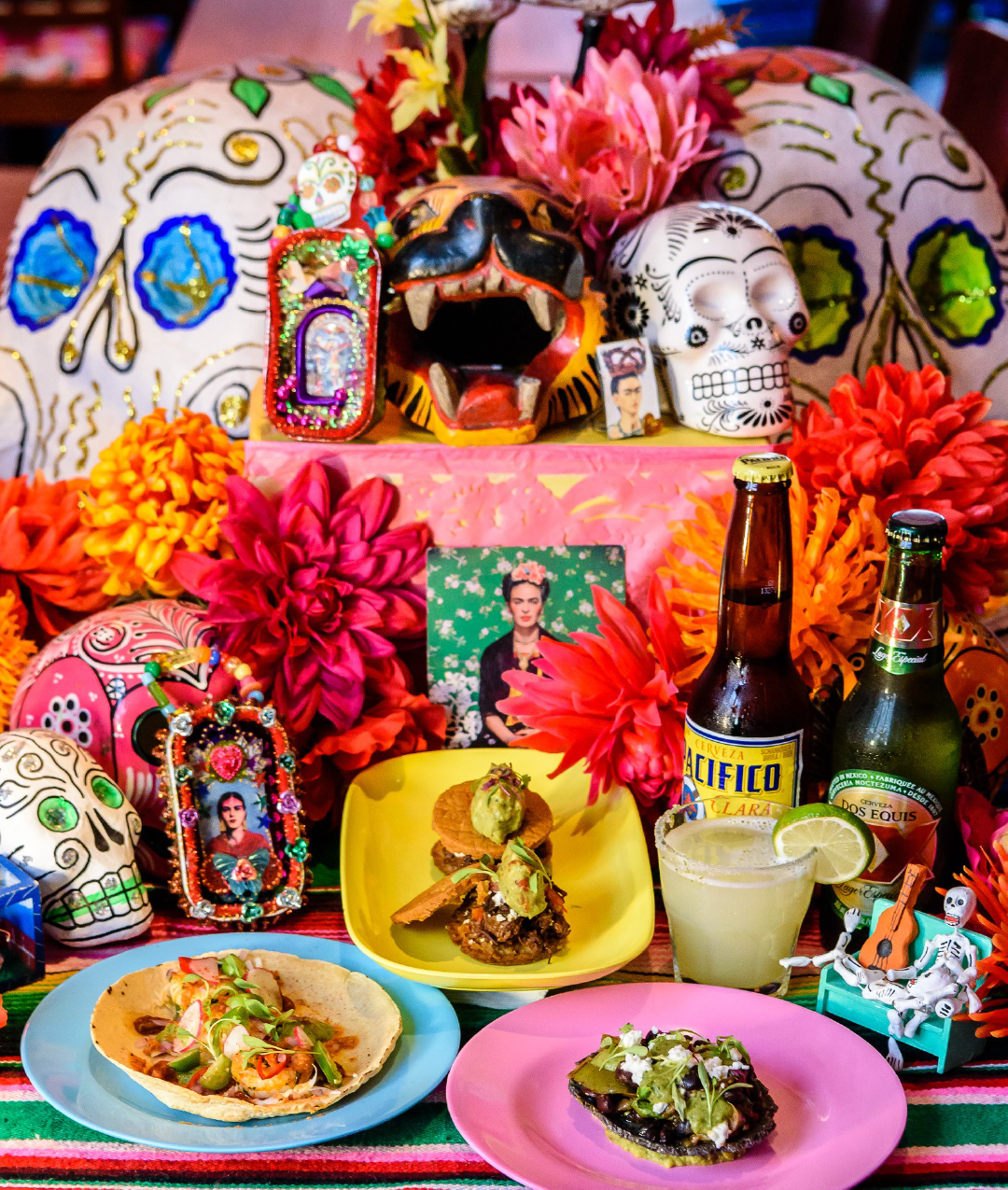 The deceased's favorite food represents the earth. For some, this will be tacos, for others chicken mole (sauce made from pepper and cocoa) or a tamale (stuffed corn flour wrap cooked in corn husks).

Both the living and departed family members share the pan de Muerto, a sweet bread in the shape of bones. Amaranth grain is also placed on the ofrenda as a snack for the returning deceased. During the Aztec period, people served pulque (alcohol made from agave) to connect with each other, whereas today, there is a toast with the deceased's favorite drink.
COMIDA
La comida favorita de los difuntos representa la tierra. Por algunos serán tacos, otros serán mole o tamales. Los vivos y los difuntos comparten pan de muerto, un pan dulce en forma de huesos. El grano de amaranto esta incluido en la ofrenda como una botana. Durante el periodo Azteca, la gente servía Pulque (licor de agave) para conectar con todos. Ahora, la gente brinde con la bebida favorita del difunto.
SYMBOLS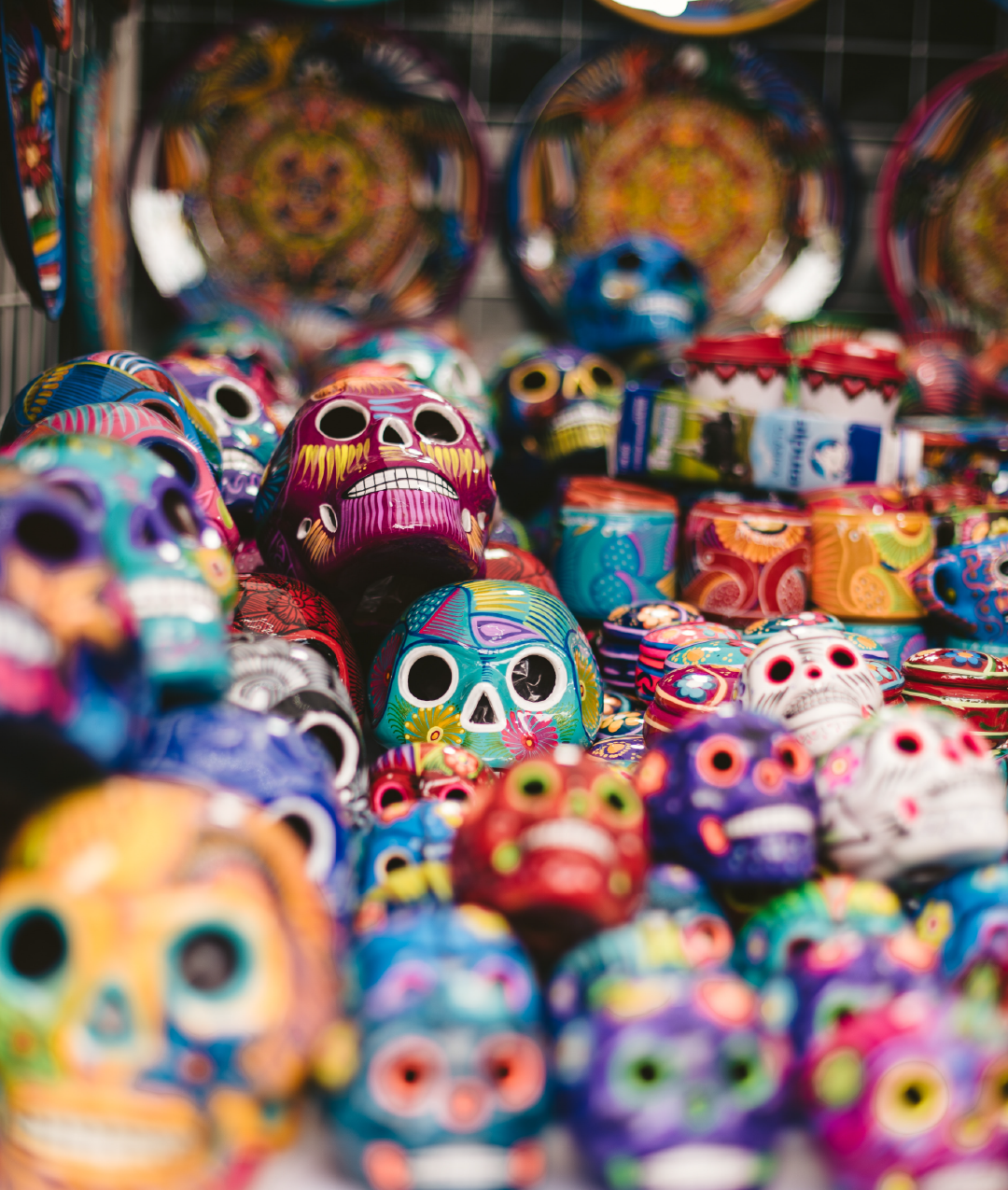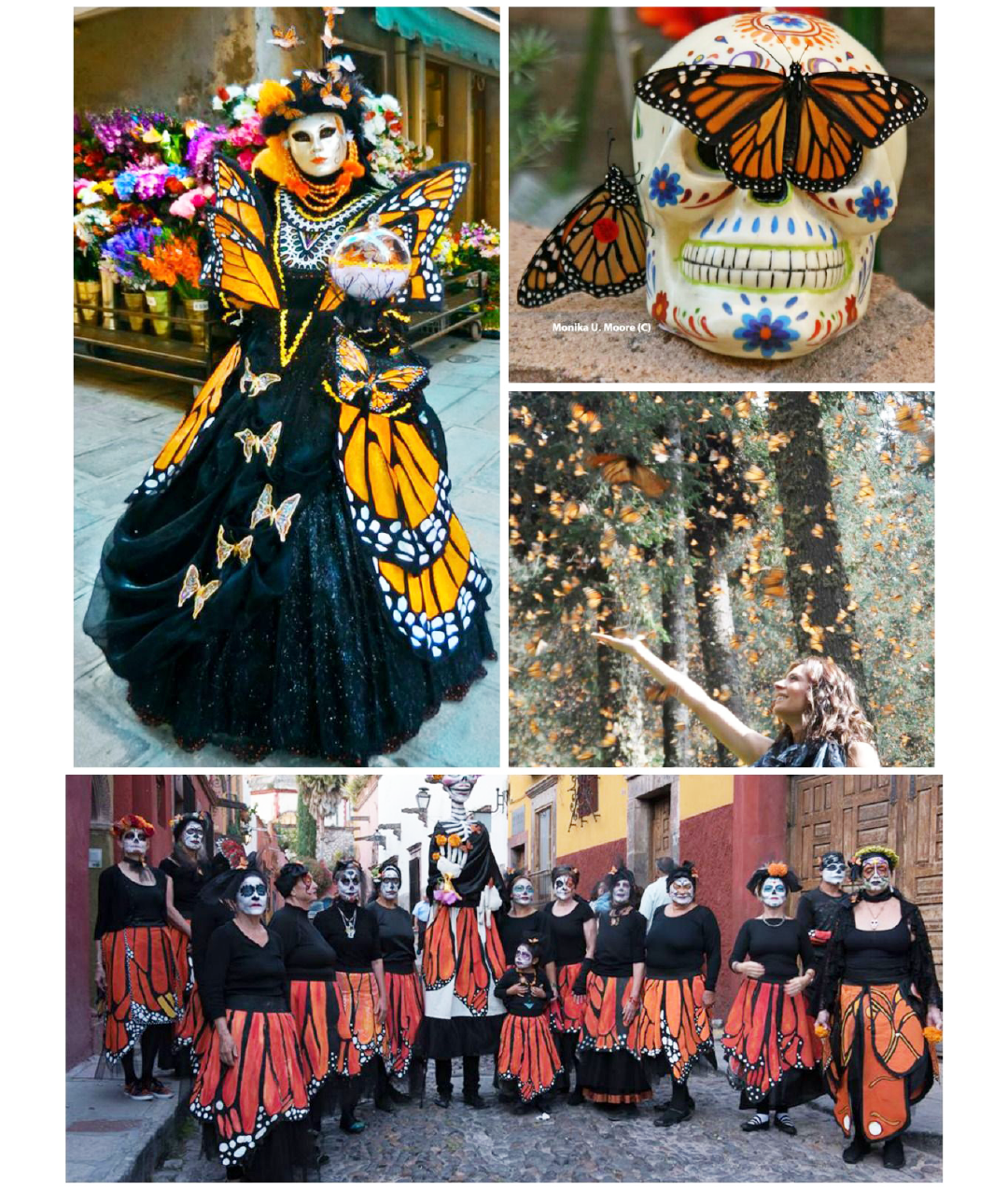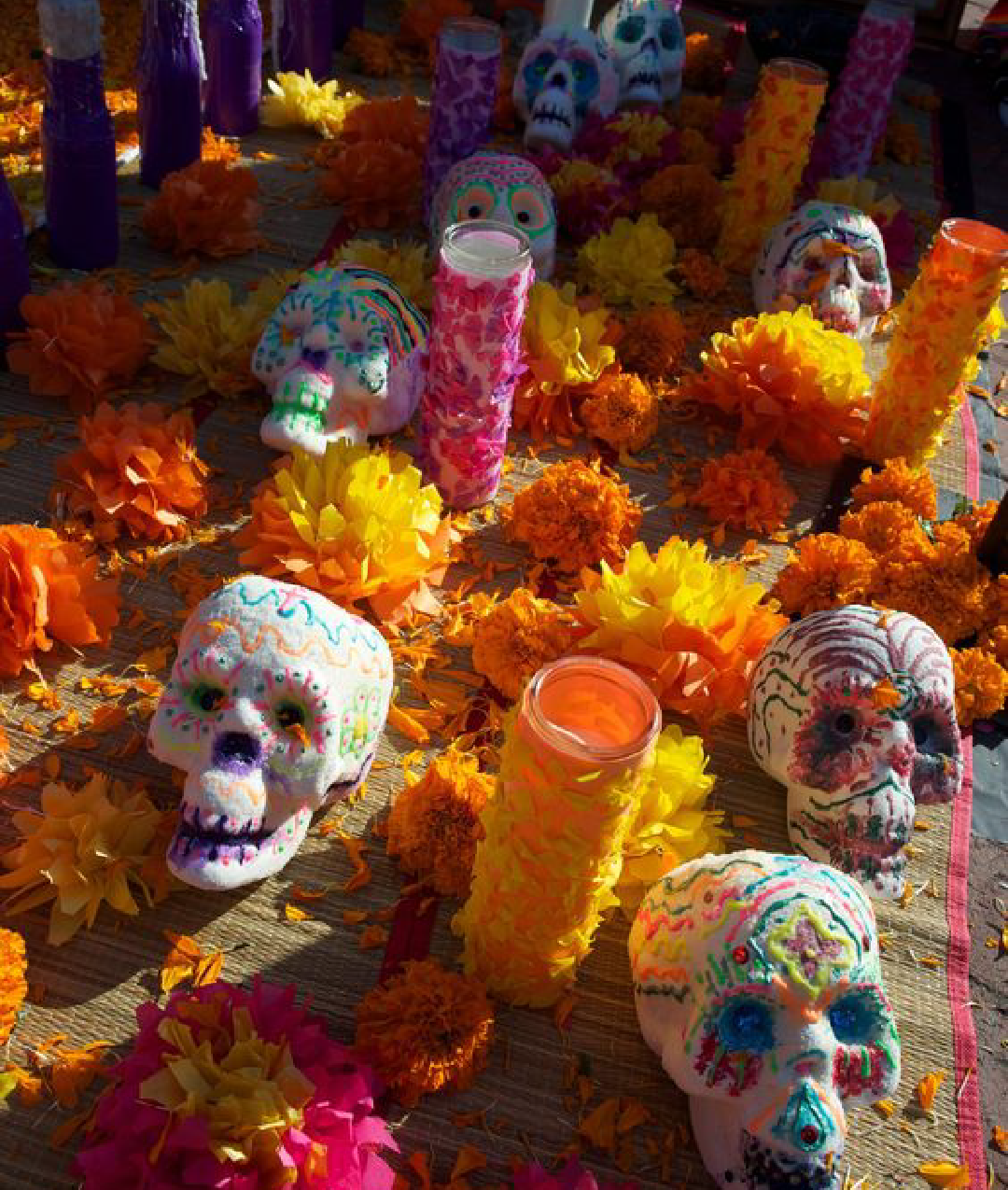 According to popular belief, traveling souls are embodied in the monarch butterflies which are profuse in Mexico at that time of year.

Traditionally, people give each other calaveritas, small sugar skulls whose bright colors represent vitality.
SIMBOLOS
Leyenda dice que las almas viajando son encarnados en las mariposas monarch que profuso mexico en esa epoca
GUIDING THEIR ANCESTORS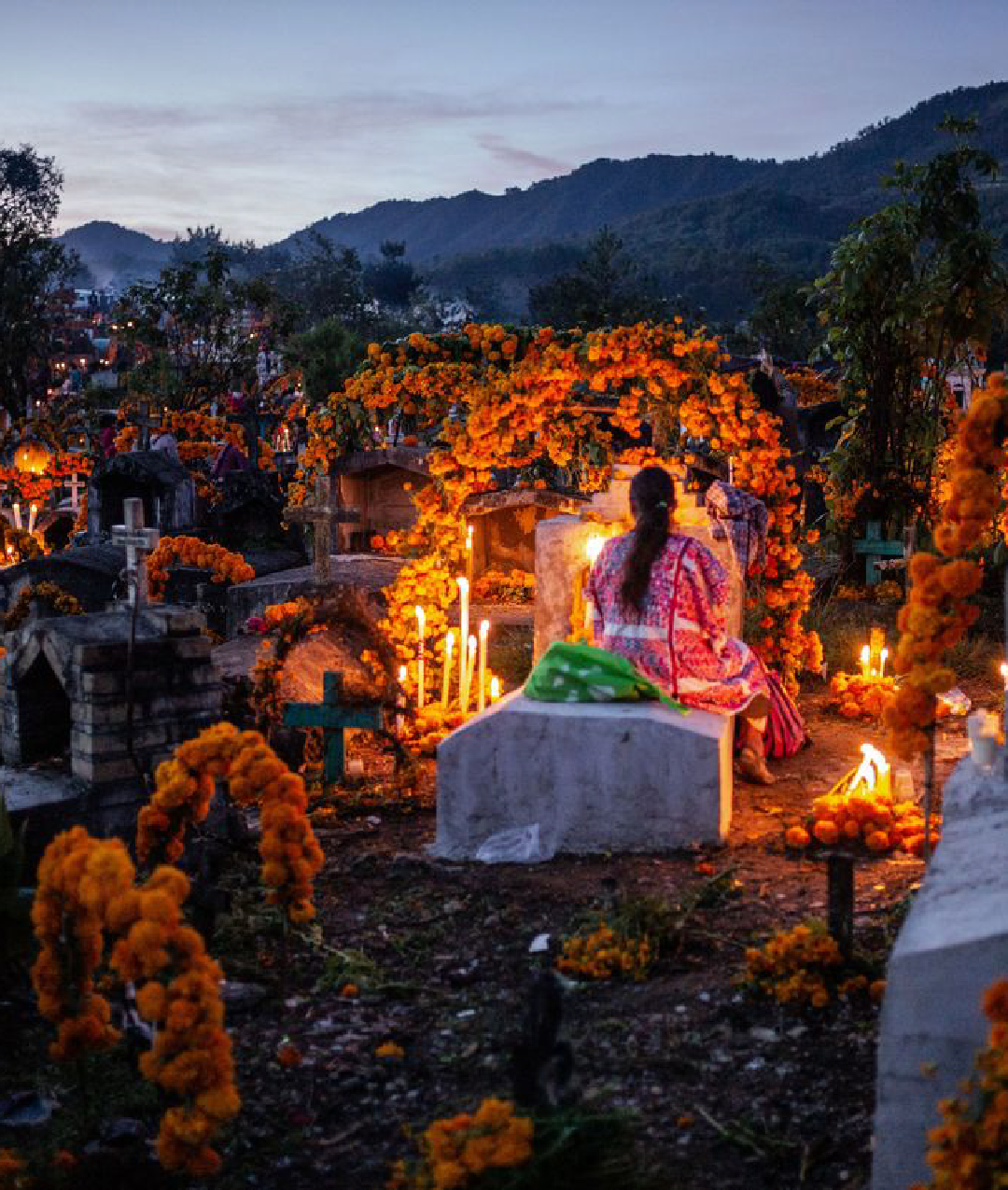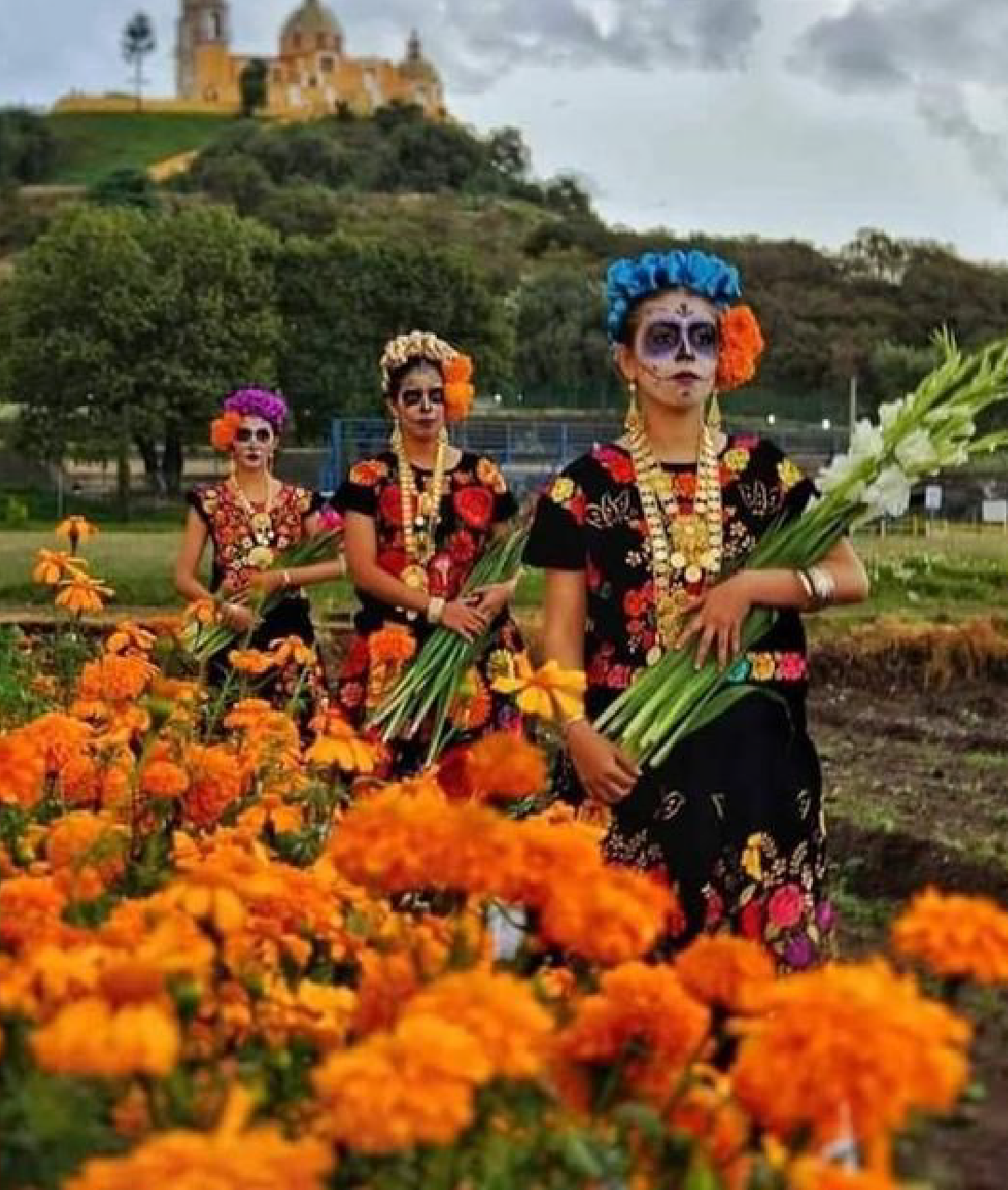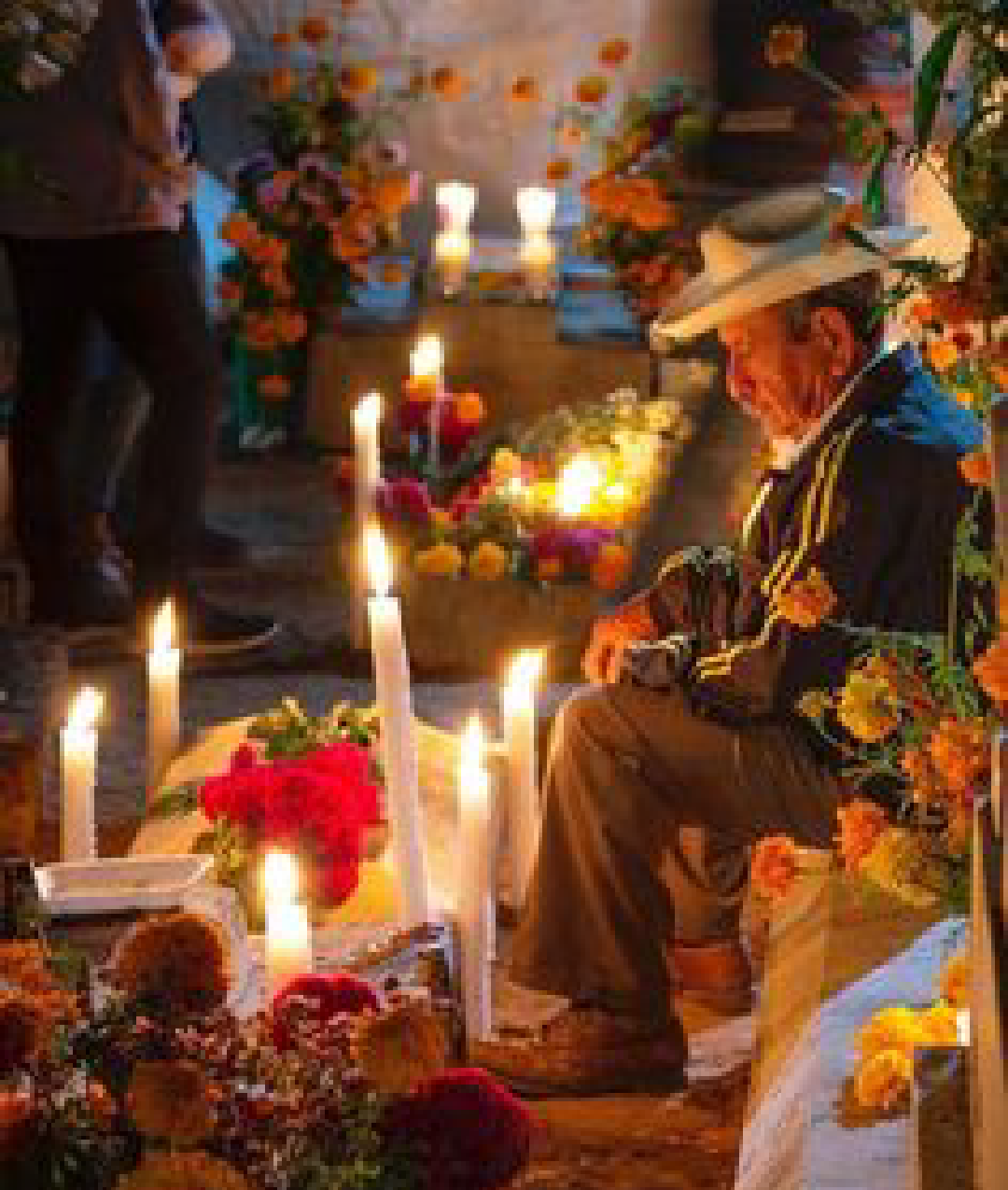 Those who make the procession to the cemetery take a picnic. The graves are cleaned and decorated with an abundance of yellow marigolds and amaranth flowers. The family lights candles to guide the souls and leaves baskets of food.

The community meticulously prepare the food, regardless of whether the meal is eaten in the home or at the cemetery, as it is a moment of sharing and living together with the dead. Mexicans spend the whole night at the cemetery, as both the living and the deceased drink, eat, talk and sing.

Together.
GUIANDO A SUS ANCESTROS
Los que hacen la procesión hasta el cementerio hacen un picnic. Las tumbas se limpian y decoran con abundancia de caléndulas amarillas y flores de amaranto. La familia enciende velas para guiar las almas y deja cestas de comida. La comunidad prepara minuciosamente la comida sin importar si la comida se come en la casa o en el cementerio porque es un momento de compartir con vivir con los muertos. Los mexicanos pasan toda la noche en el cementerio mientras tanto los difuntos y los vivos beben, comen, hablan y cantan.

Juntos.